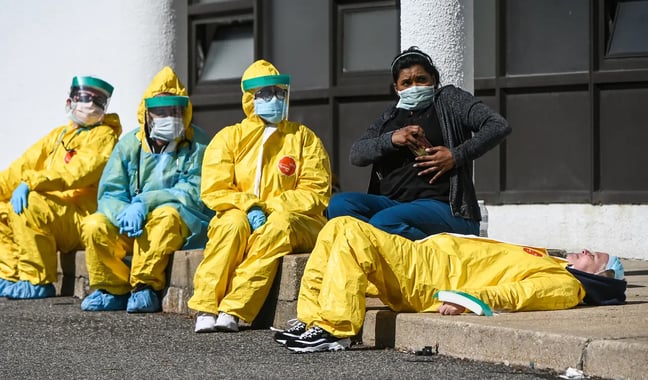 As hospitals are inundated with COVID-19 cases, countless other patients are being asked to stay away. If we're not careful, we will have a second health crisis to face as our most chronically ill populations are unable to access the care they need to manage their conditions.
Multiple states are now restricting hospitals to emergency care. Some are shrinking everyday procedures by as much as 50%. But while limitations on elective surgeries get the most attention, the impact on truly vulnerable patients is largely playing out away from the limelight.
This is a call to public health officials and municipal leaders who are in the hot seat of tough decisions in the face of a crisis: We need to keep a lane clear for chronically ill patients.
They include 34 million diabetics and hundreds of thousands of people with chronic kidney disease, who are being asked to postpone visits. Both are uniquely susceptible to infection. Yet, hospitals can handle only their most pressing, emergency needs.
Then come the canceling of joint surgeries for chronic pain. The delays in treatment for lower-risk cancer, cardiac bypass, and congestive heart failure patients. Even organ donor programs are being put on hold, with recent transplant patients foregoing follow up appointments. One Colorado man had his liver transplant surgery aborted after it was deemed elective. Without it, he's thought to have less than two months to live.
Add in the millions of people losing or seeing limited treatment for things like mental health and opioid addiction. Those most reliant on the healthcare system, who need preventative care most, are being pushed to the sidelines.
And this is at a moment when our economy is also taking a turn for the worse and unemployment is rising.
Federal, state, and local health officials are doing the best they can. But I fear that they may be applying unilateral decisions to attack COVID-19 within a healthcare and economic ecosystem that is complex and multivariate.
It may work for the short-term, as physicians postpone only non-urgent matters. And with a medical system preparing to be overwhelmed, few would argue against an all-hands-on-deck, single-minded approach to assembling ourselves to combat COVID-19 effectively.
But we need to look up for a minute at the larger picture or we will pay a big price down the line. Beyond the economic pain inflicted upon frontline primary care practices, there is also the spectre that four to six months out we will face a second healthcare crisis: The build-up and eventual explosion from all those people now going untreated, whose care can only be delayed so long, some of whom are bound to become emergencies or fatalities of their own.