LogistiCare's culture of care is all about helping those we serve through community service. Community service: voluntary work intended to help people in a particular area.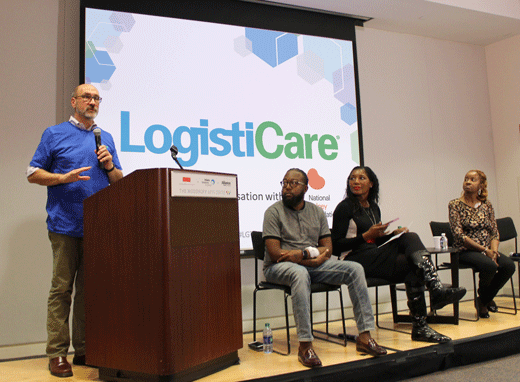 And that is exactly what the team at LogistiCare did last week hosting our first official LogistiCare Service Day at our corporate office in Atlanta, Georgia. This event focused specifically on the organizations, doctors and patients fighting Kidney Disease.
The day began at the Woodruff Arts Center with a powerful presentation of inspiration and compassion. Our CEO, Jeff Felton, kicked off the presentation thanking the LogistiCare team throughout the country for the compassion and care they show in their work each and every day for those we serve. He spoke of the need for each of us to see beyond the service we provide to our members to understand what they experience on the other side of that service because at LogistiCare every member and every ride matters.
Jeff then introduced our first guest speaker, Cara McKinney, National Kidney Foundation (NKF) Executive Director for Georgia, Alabama, and Mississippi. Cara spoke about kidney disease and the fact that 1 in 3 American adults is at risk. She expressed NKF's appreciation of LogistiCare's long-standing partnership with NKF, our fundraising efforts over the years, and our ongoing commitment to those we mutually serve.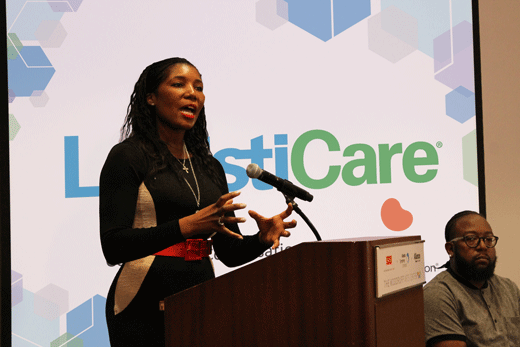 Then Dr. Frita Fisher addressed the team. Dr. Fisher, of Midtown Atlanta Nephrology, is triple board certified in nephrology, internal medicine, and pediatrics. She spoke of her work with NKF and the incredible things NKF does for those suffering with Chronic Kidney Disease (CKD) and for those at risk. She reminded our team of the major risk factors: diabetes, high blood pressure, a family history of kidney failure, and being age 60 or older. She educated us on the importance of testing because early detection and treatment can slow or prevent the progression of kidney disease. For example, at an annual physical ask the doctor about two simple tests: Albumin Creatinine Ration (ACR) and Glomerular Filtration Rate (GFR). Then Dr. Fisher opened it up for Q&A which proved to be with a highly engaged audience.
The best part of the day may have been the next two guest speakers. Both are dialysis patients currently living with CKD. Their stories moved every single person in the room – many to tears. Not just hearing about what they endure - hemodialysis entails sitting in a chair in a clinic for 3 days per week, for about 4 hours each day – but for the sheer courage and determination they both exemplify. Their will to live a full and happy life with their families and friends would inspire anyone. Our team could not be more grateful for their time and for sharing their incredible stories.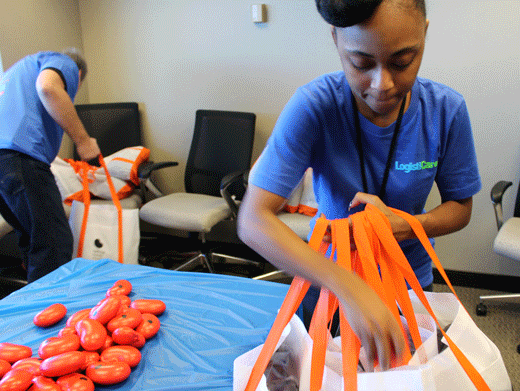 The team then walked across the street to our corporate office to compile 500 care packages consisting of blankets, water bottles, stress toys, coloring books and pencils, and much more, to be distributed to dialysis patients to provide them some comfort. While enjoying each other's company and listening to holiday music, teammates from every level of the organization were working together signing greeting cards, stuffing bags and boxing care packages up for future delivery. This time of year reminds us that there is much to be thankful for yet there are still many in need - LogistiCare's culture of care is one that strives to serve those. For example, we recently collected a record amount of food during our eighth annual food drive by donating more than 42,000 items.
These are just a few of the things LogistiCare does to give back to the communities we serve. Stay connected to LogistiCare to not miss out on the delivery of the care packages, and the smiles and comfort we hope to bring, to 500 dialysis patients in communities around Atlanta.