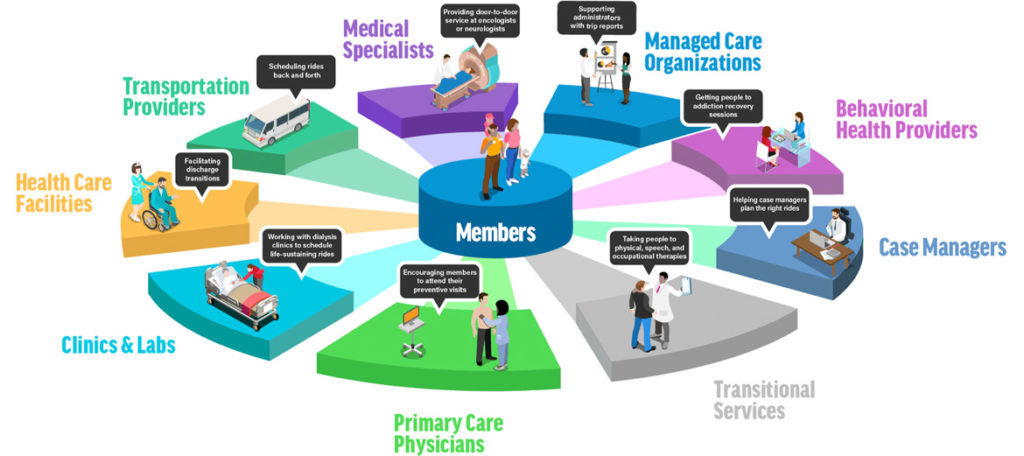 LogistiCare works with Managed Care Organizations (MCOs) across the country. Helping them keep their members healthy and safe isn't just a mindset, it's a mission. So when one of our MCOs came to us and asked if we would expand our services outside of their Medicare transportation program and offer our rides directly to any of their members, we knew it was something we wanted to partner with them on to make life a little bit easier for all their members. Called RidePlus, the service is available to the MCO's members at a discounted rate, which they know in advance and pay for themselves. It's a better way to get around town with just a little extra care for those who need it.
Taking advantage of the day
Staying active leads to a healthier mind, body and spirit. That's why this MCO and LogistiCare are encouraging members to take advantage of RidePlus and get out into the community. Members can run errands. Attend social activities. Get to doctor appointments without depending on friends or family to drive them there. It's easier to have a healthier, independent lifestyle when you can get around easily. It only makes sense to extend rides with a deeper level of consideration to more members for a nominal fee. When members pay for the rides themselves, they can go anywhere they choose and do anything they want:
Buy fresh foods at grocery stores
Get to doctor appointments
Ride home from the hospital
Visit the pharmacy
Volunteer with local nonprofits
Attend fitness classes
See family and friends
Go to the library, park, or mall
Enjoy dinner at a restaurant
With the added care and consideration members need
Sometimes members need a little extra help getting from here to there. RidePlus offers doorstep to doorstep transportation with the added care and consideration members need to get around comfortably. Our drivers assist with special needs like helping to keep seniors steady as they walk down the steps of their homes or driveways to get into a vehicle. We do it every day all day for members under our contracted service. When it comes to assistance, our service offers more than a typical cab, but still carries all the conveniences. Our drivers are experienced. Members won't feel rushed getting in and out of the car. Families get the peace of mind as their loved ones are chauffeured by drivers who care. Members will know who their driver is and the vehicle can be wheelchair accessible if needed. They can also feel confident that drivers and the vehicles they drive are screened by LogistiCare to the same standards we do for all our members.
How does it work? Easy as 1, 2, 3
Members schedule their ride by either calling an 800 number Monday through Friday from 8am-5pm a day or more in advance or by inputting their request through a website. Some same day rides can be accommodated as well, especially if medically related. Rides are available Monday through Saturday from 6am-8pm. LogistiCare will notify them at least an hour prior to pickup to tell them who their driver is so they know who to expect. Finally, drivers can wait for the member as they go into a store or come back and pick the member up later. Members can also call when they are ready to be picked up. It's best to give an hour's notice.
What are the rates?
Rates are based on the type of vehicle selected, what area of the country the service is offered, as well as the distance of the ride. Estimates are given based on 15 minute increments if the member wants the driver to wait for them to return. Members always know the costs at scheduling and can pay then with a credit or debit card. Drivers are not to be tipped so no cash is exchanged during their ride. However, promotions are frequently run to encourage use of the service and provide additional value for frequent utilizers.
Members get added independence with these rides, but the service just may be altering the course to longer, healthier living for that member. For example, a member may avoid a broken hip with the helping hand of a trained driver over a rushed effort to get to a cab without assistance. They may prevent increased depression or isolation by having a way to visit friends and family. Most importantly, they are empowered to participate in the regular activities needed to live independently. MCOs that are looking for ways to add member benefits and keep their members healthier and in their communities longer, might want to look into a similar program and expand our services to additional member populations. We'd be happy to help.