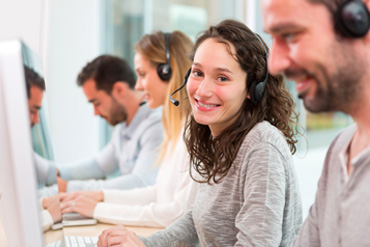 When we set out to upgrade our call center technology, we knew we were embarking on an important mission for the company. It had to deliver quick and reliable service for our members. It had to be powerful, carry safety nets, and it had to deliver groundbreaking efficiency. Most of all it had to give us and our clients the reporting data we needed to constantly evolve service for the better. It does just that.
The right call goes to the right agent
This smart system knows how to send the right type of calls to the right agent based on a number of items. The system looks at Customer Service Representative (CSR) availability, the training of each CSR, and the type of program the member is calling from, before it routes it to an individual agent. Members identified with special needs can now be routed to more experienced agents. Supervisors can also view a call as it's happening to give members immediate support if needed. It's all designed to help elevate the experience we give to our members. We also wanted a system that would reduce their wait time on the phone.
Less wait time with nation-wide support
This smart system automatically knows how to bring in more CSRs or less according to demand and does it sooner than we ever could before. It also naturally balances CSR workloads to minimize the stress associated with high demand. LogistiCare now has greater control over wait times, while creating a better experience for members without the need for manual intervention. It even has the ability to go outside of a local operation seamlessly. Our new telephony infrastructure can pull in agents from anywhere in the country. The member still calls their same toll-free number and they'll get the same high quality assistance regardless of the agent's location.
More automation results in improved service
Many in the industry are still using dated ACD systems that rely solely on supervisors to handle call surges. They have to monitor traffic at their computer screens and manually reassign agents to meet changing demand. Often, by the time call center supervisors respond to a surge, it is too late—callers have already waited too long. The result is increased abandonment rates. LogistiCare's supervisors won't have to constantly play traffic cop, shuffling CSRs or remembering to move them back to their normal assignments. Instead, they can focus on managing the big picture.
Better data for better decision-making
Part of that big picture is being able to see current data and analytics to aid in decision making. Our call center managers can monitor, in real time, any area of call center performance such as the number of queued calls, average wait time, and agent availability. By leveraging this smart system, our call center managers are empowered to immediately spot and react to operational challenges before they become critical.
Members get faster, better service that is tailored to them. Now agents have important customer details so they can ensure the best possible member experience. CSRs can connect with other supervisors and experts (for example, a Transportation Coordinator or Utilization Review Specialist) so the caller's inquiry is resolved immediately. LogistiCare will also be able to integrate in unique messages for prompts to callers. Clients have access to a robust system and we will be able to report better results on their programs, all while giving members a better experience.
LogistiCare is not just a non-emergency medical transportation company. We are coordinating the logistics that enable better access to health care for millions of people. We want our members to have the best experiences possible and technology plays a big role in that effort. We are making multi-million dollar technology investments to pave the way for clients and members. Stay tuned for more technology updates we have underway.