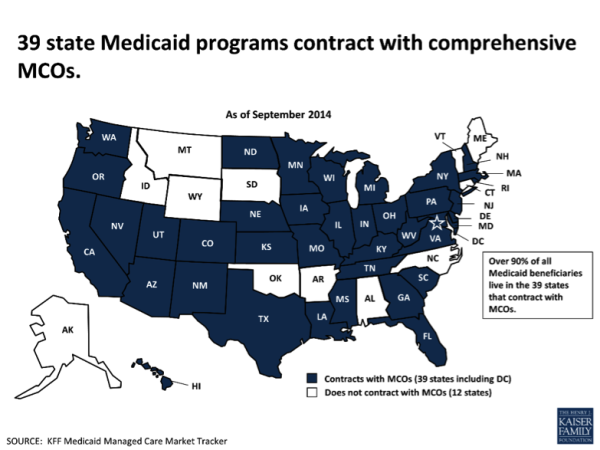 As healthcare expenses in the 1990s began spiraling out of control, states with limited Medicaid budgets began looking for options to better serve their populations. Access to care has traditionally been a risk factor for Medicaid recipients and their state programs. Building the networks of doctors that would accept lower rates and growing numbers of patients is a marked challenge. Pushing the program to private health insurance companies whose strong suit was building provider networks was an ideal match. Now called Medicaid Managed Care Organizations (MCOs), they promised to serve members better, promote preventive care, and help manage costs. States got Medicaid services at capitated rates which reduced risk by fixing their costs.
According to the Kaiser Family Foundation, thirty-nine states now contract with comprehensive MCOs to serve at least some Medicaid beneficiaries, and nationally, over half of all Medicaid beneficiaries – primarily, children and parents – get their care through these plans. See the map below. But, are MCOs delivering on the dream—lowering costs while improving outcomes?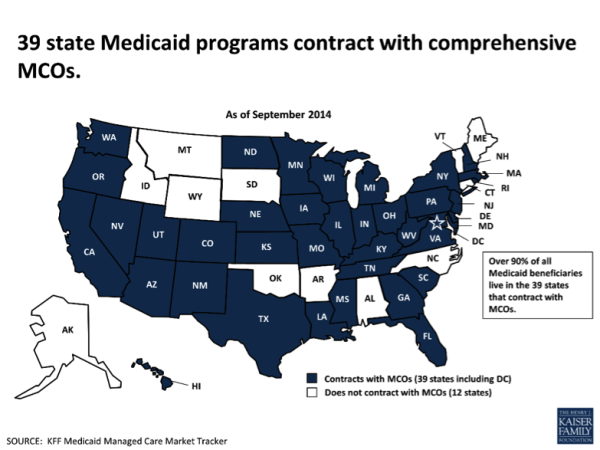 Who is equipped to run it better? The answer is likely in the data.
Today media, state officials, and healthcare advocates are beginning to weigh the cost against the effectiveness of MCOs.
In 2012, Connecticut decided it would no longer use private Medicaid contractors after a 15-year history with them, saying it preferred to redirect the millions that went to administrative costs and profits and use it to boost pay for primary care doctors and improve care. Connecticut's state director said the state lost confidence in the managed care contractors. "Their measured performance is not impressive," Mark Schaefer told Kaiser Health News.
Other states have had positive results Modern Healthcare reports. "In the 1980s and early 1990s, Arizona achieved cost savings of 11% for medical services and 7% in total cost savings under managed care, compared with its costs if the state had stayed with fee-for-service medicine, according to a Lewin Group study. In 2002, a managed-care model enabled Wisconsin to achieve 10.7% savings in program expenses."
However the Lewin Group report originated in 2004—more than a decade ago. There's not enough data being reported publicly on the results MCOs are providing to states, taxpayers and beneficiaries. With research lacking and states reporting mixed results, does Medicaid managed care really lower costs for states and improve outcomes for its beneficiaries?
Doctors don't see MCOs as innovators in care coordination.
One of the promises of moving Medicaid management to private company programs was that healthcare outcomes would improve with increased access to care. Yet innovations in care coordination don't appear to be originating out of MCOs.
In June 2014, providers in four states participated in a telling study issued by the Commonwealth Fund. Doctors did not perceive managed care organizations (MCOs) to be the primary sponsors of efforts to improve health care delivery for Medicaid beneficiaries, but at the same time didn't deny that they are involved "to a certain extent."
The obstacle? Providers felt that MCOs don't have strong local ties. Without being immersed in a community, how could they be effective in community collaborations?
The study suggested several routes that MCOs could take to promote effective and efficient delivery of coordinated care. Respondents emphasized that care managers making frequent, in-person contact with patients would be more effective than efforts to manage or coordinate care by telephone.
It also suggested that reimbursement for more types of non-physician professionals, such as patient navigators, and payment for appropriate supportive services, such as child care, transportation, or interpreters for medical appointments, could promote patient-centered care.
Time to step up. Governments need to help.
MCOs aren't going away by any stretch of the imagination. In fact, MCOs are being asked to explore taking on more difficult Medicaid populations with long-term disabilities. The Catholic Health Association of America concludes that it may not be the MCO program that's flawed but the monitoring that puts beneficiaries at risk. They point out that states could use incentives or penalties to help bring plan performance up to speed. The Commonwealth Fund study also recommends that certain policy or operational changes on the part of states could promote patient-centered care in Medicaid managed care programs and improve population health.
It's not so much that we are seeing a trend that moves Medicaid back into state run fee for service programs. MCOs have clearly achieved critical mass. What it does mean is that it's time for the plans to begin proactive care coordination reforms, for states to help them get there, and for both to share the results so success can be repeated in other states.