Reservation Numbers & Location Map
Serving More States Than Any Other NEMT Manager
Scroll below to find your state's reservation line. You can reach us via these numbers any time, day or night, 24/7/365.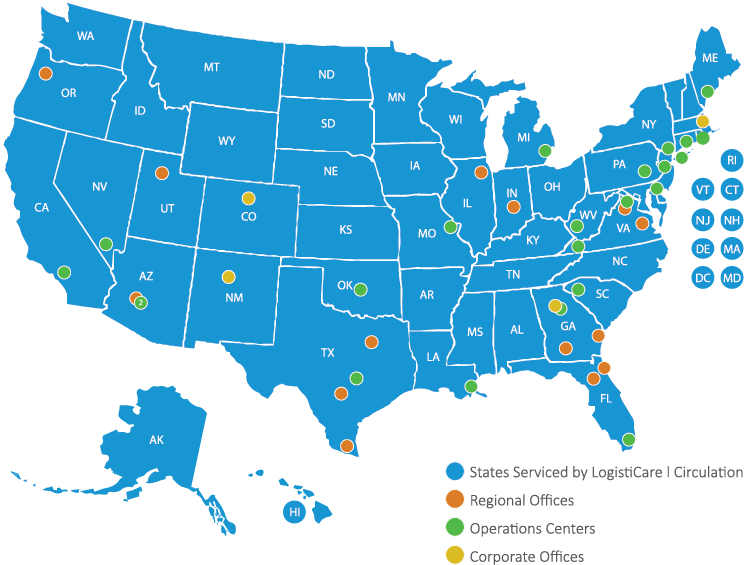 Health and Safety are our #1 priority
Learn what we are doing in response to COVID-19 (the coronavirus). Due to many healthcare facilities and doctor offices being closed during this time, please contact your healthcare provider to confirm your appointment before contacting LogistiCare to schedule a trip.
Alabama:
Humana National Medicare (MCR): 1-866-588-5122
Centene/Ascension: 1-877-718-4201
UnitedHealthcare Medicare National: 1-866-418-9812
Arizona:
Humana National Medicare (MCR): 1-866-588-5122
UnitedHealthcare Medicare National:1-866-418-9812
Arkansas:
Humana National Medicare (MCR): 1-866-588-5122
UnitedHealthcare Medicare National: 1-866-418-9812
California:
Alameda Alliance Health Plan: 1-866-791-4158
Anthem Blue Cross Health Plan: 1-877-931-4755
CalViva Health Plan: 1-855-253-6864
HealthNet Cal Medi-Connect: 1-866-799-4465
HealthNet Commercial HMO: 1-866-842-0675
HealthNet Health Plan (SNP): 1-866-779-5165
HealthNet Medi-Cal Health Plan: 1-855-253-6863
HealthNet Medicare Program (HMO, SNP): 1-877-718-4201
HealthNet Senior HMO: 1-866-842-0675
Humana National Medicare (MCR): 1-866-588-5122
UnitedHealthcare Medicaid: 1-844-772-6623
UnitedHealthcare Medicare Lacers National: 1-866-418-9812
UnitedHealthcare Medicare National: 1-866-418-9812
Colorado:
Anthem Wellpoint: 1-844-287-6689
Humana National Medicare (MCR): 1-866-588-5122
UnitedHealthcare Medicare National: 1-866-418-9812
Connecticut:
UnitedHealthcare Medicare National: 1-866-418-9812
Delaware:
Delaware Medicaid: 1-866-412-3778
Humana National Medicare (MCR): 1-866-588-5122
UnitedHealthcare Medicare National:1-866-418-9812
Florida:
Aetna Better Health of Florida: 1-866-799-4463
AHCA MCD: 1-866-726-1457
Allwell from Sunshine Health Plan: 1-877-718-4201
Ambetter from Sunshine: 1-866-417-0298
Amerigroup MMA: 1-866-372-9794
Amerigroup LTC: 1--877-931-4753
Ascension Complete: 1-877-718-4201
Blue Cross Blue Shield: 1-855-875-5194
Community Care Plan: 1-866-306-9358
Community Care Plan Title 21: 1-866-429-8529
Humana LTC: 1-877-564-0571
Humana MCR: 1-866-779-0567
Humana MMA: 1-866-779-0565
Medica HealthCare: 1-888-774-7772
Preferred Plans: 1-888-774-7772
Prominence HealthFirst: 1-866-267-7642
Sunshine Health MCD: 1-877-659-8420
Sunshine Health LTC: 1--877-659-8414
Sunshine Health DSNP: 1-877-659-8420
Sunshine Health MAPD: 1-877-659-6139
UnitedHealthcare Medicaid-LTC: 1-877-931-4751
UnitedHealthcare Medicaid- MMA: 1-866-372-9891
UnitedHealthcare Medicare National: 1-866-418-9812
Georgia:
GEORGIA REGIONS
Central Region: 1-888-224-7981
Baldwin, Bibb, Bleckley, Butts, Carroll, Clayton, Coweta, Dodge, Fayette, Heard, Henry, Jasper, Jones, Lamar, Laurens, Meriwether, Monroe, Newton, Pike, Putnam, Rockdale, Spalding, Telfair, Troup, Twiggs and Wilkinson
East Region: 1-888-224-7988
Appling, Bacon, Brantley, Bryan, Bulloch, Burke, Camden, Candler, Charlton, Chatham, Clarke, Columbia, Effingham, Elbert, Emanuel, Evans, Glascock, Glynn, Greene, Hancock, Hart, Jeff Davis, Jefferson, Jenkins, Johnson, Liberty, Lincoln, Long, Madison, McDuffie, McIntosh, Montgomery, Oconee, Oglethorpe, Pierce, Richmond, Screven, Taliaferro, Tattnall, Toombs, Treutlen, Ware, Warren, Washington, Wayne, Wheeler and Wilkes
Southwest Region: 1-888-224-7985
Atkinson, Baker, Ben Hill, Berrien, Brooks, Calhoun, Chattahoochee, Clay, Clinch, Coffee, Colquitt, Cook, Crawford, Crisp, Decatur, Dooly, Dougherty, Early, Echols, Grady, Harris, Houston, Irwin, Lanier, Lee, Lowndes, Macon, Marion, Miller, Mitchell, Muscogee, Peach, Pulaski, Quitman, Randolph, Schley, Seminole, Stewart, Sumter, Talbot, Taylor, Terrell, Thomas, Tift, Turner, Upson, Webster, Wilcox and Worth
GEORGIA PLANS
Amerigroup CHIP: 1-866-913-4506
Humana National Medicare (MCR): 1-866-588-5122
UnitedHealthcare Medicare National: 1-866-418-9812
Hawaii:
Humana National Medicare (MCR): 1-866-588-5122
UnitedHealthcare Medicaid: 1-866-475-5746
Idaho:
UnitedHealthcare Medicare National1-866-418-9812
Illinois:
Aetna Better Health of Illinois: 1-866-913-1265
Ascension Complete: 1-877-718-4201
Blue Cross Blue Shield HCSC MCR: 1-844-452-9379
Humana National Medicare (MCR): 1-866-588-5122
Meridian Health Plan (MA): 1‐877-902-6784
UnitedHealthcare Medicare National: 1-866-418-9812
Indiana:
Allwell from Managed Health Services: 1-877-718-4201
Humana Medicare (MCR): 1-866-588-5122
MDwise: 1-800-356-1204
Meridian Health Plan (MA): 1‐877-902-6784
UnitedHealthcare Medicare National: 1-866-418-9812
Iowa:
Humana National Medicare (MCR): 1-866-588-5122
UnitedHealthcare Medicare National: 1-866-418-9812
Kansas:
Allwell from Sunflower Health Plan: 1-877-718-4201
Ascension Complete: 1-877-718-4201
Centene Sunflower: 1-877-917-8162
Humana National Medicare (MCR): 1-866-588-5122
Sunflower State: 1-877-917-8162
UnitedHealthcare Kansas Medicaid/CHIP/ABD: 1-877-796-5847
UnitedHealthcare Medicare National: 1-866-418-9812
UnitedHealthcare Kansas MLTC: 1-877-659-6135
Kentucky:
Humana National Medicare (MCR): 1-866-588-5122
UnitedHealthcare Community Plan of Kentucky: 1-866-918-8996
UnitedHealthcare Medicare National: 1-866-418-9812
Louisiana:
Aetna: 1-877-917-4150
Allwell from Louisiana HealthCare Connections: 1-877-718-4201
Amerihealth Caritas: 1-888-913-0364
Humana National Medicare (MCR): 1-866-588-5122
UnitedHealthcare Medicaid: 1-866-726-1472
UnitedHealthcare Medicare National: 1-866-418-9812
Maine:
MAINE REGIONS
Region 1: 1-855-608-5174
(Patten, Danforth, & Aroostook County)
Region 2: 1-855-608-5176
(Washington & Hancock Counties)
Region 6: 1-855-608-5178
(Cumberland County - NOTE: Brunswick & Harpswell Excluded)
Region 7: 1-855-608-5180
(Androscoggin, Franklin & Oxford County)
Region 8: 1-877-659-1302
(York County, Brownfield, Denmark, Fryeburg, Hiram, Porter Lovell, Stoneham, Stow, Sweden cities in Oxford County)
MAINE PLANS
Humana National Medicare (MCR): 1-866-588-5122
UnitedHealthcare Medicare National: 1-866-418-9812
Maryland:
UnitedHealthcare Medicare National: 1-866-418-9812
Massachusetts:
MA Tufts MCD - All: 1-855-251-7092
Senior Whole Health MA: 1-844-544-1391
UnitedHealthcare MA SCO: 1-866-428-1967
Michigan:
AmeriHealth Caritas Blue Cross Complete: 1-888-803-4947
AmeriHealth Caritas MMP Duals: 1-855-341-4111
Centene/Ascension: 1-877-718-4201
Humana National Medicare (MCR): 1-866-588-5122
Meridian Health Plan (MA): 1‐877-902-6784
MI Medicaid: 1-866-569-1902
Michigan Complete Health: 1-877-564-5905
Molina: 1-888-898-7969
UnitedHealthcare Medicaid: 1-877-892-3995 or 1-800-903-5253
UnitedHealthcare Medicare National: 1-866-418-9812
Minnesota:
Humana National Medicare (MCR): 1-866-588-5122
Mississippi:
Allwell from Magnolia Health Plan: 1-877-718-4201
Humana National Medicare (MCR): 1-866-588-5122
Missouri:
Centene Allwell/Health Net: 1-877-718-4201
Humana National Medicare (MCR): 1-866-588-5122
Missouri Medicaid: 1-866-269-5927
UnitedHealthcare Medicare National: 1-866-418-9812
Montana:
Humana National Medicare (MCR): 1-866-588-5122
Nebraska:
Humana National Medicare (MCR): 1-866-588-5122
UnitedHealthcare AARP Medicare Advantage: 1-866-418-9812
UnitedHealthcare Community Plans: 1-833-583-5683
UnitedHealthcare Medicare Advantage: 1-866-418-9812
Nevada:
Allwell from SilverSummit Health Plan: 1-877-718-4201
Prominence Healthfirst: 1-866-267-7643
UnitedHealthcare Medicare National: 1-866-418-9812
New Hampshire:
Humana National Medicare (MCR): 1-866-588-5122
UnitedHealthcare Medicare National: 1-866-418-9812
New Jersey:
Amerigroup/DMAS: 1-866-527-9933
Humana National Medicare (MCR): 1-866-588-5122
New Jersey Medicaid: 1-866-527-9933
New Mexico:
Blue Cross Blue Shield HCSC MCR: 1-866-842-0650
Blue Cross Blue Shield Medicare NM: 1-844-452-9383
Humana National Medicare (MCR): 1-866-588-5122
UnitedHealthcare Medicare National: 1-866-418-9812
New York:
Archcare MLTC: 1-844-544-1395
Elderplan IESNP: 877-779-8613
Elderplan Homefirst MLTC: 1-877-779-8611
Elderplan Medicare Advantage: 877-659-6141
Elder Plan Medicaid Advantage Plus: 1-877-714-6880
Elderplan Nursing Home: 1-855-251-7094
Empire Blue Cross Blue Shield Healthplus MLTC: 1-866-481-9667
Extended MLTC – NY: 1-866-417-0294
HealthCare Partners of NYMA: 1-844-409-0691
Healthfirst Complete Care: 1-888-260-1010
Healthfirst MCR: 1-888-260-1010
Healthfirst MLTC/SHP: 1-800-633-9717
Humana National Medicare (MCR): 1-866-588-5122
Integra MLTC: 1-877-831-3146
Long Island Nassau & Suffolk Counties: 1-844-678-1103
MetroPlus MLTC: 1-855-355-6582
Montefiore Diamond Care MLTC: 1-855-556-6683
Partners Health Plan FIDA: 1-855-369-3721
Prominence HealthFirst: 1-866-267-7643
UnitedHealthcare Medicaid Advantage: 1-866-913-2497
Village Care: 1-877-916-7999
North Carolina:
NC Carolina Complete Health Medicaid: 1-855-397-3601
NC Blue Cross Blue Shield Medicaid: 1-855-397-3602
NC AmeriHealth Caritas: 1-855-397-3603
NC UnitedHealthcare Community Plan Medicaid: 1-855-586-3603
NC Anthem BlueCross BlueShield Medicare (MCR): 1-855-397-3608
Humana National Medicare (MCR): 1-866-588-5122
UnitedHealthcare Medicare National: 1-866-418-9812
North Dakota:
Humana National Medicare (MCR): 1-866-588-5122
UnitedHealthcare Medicare National: 1-866-418-9812
Ohio:
Aetna Ohio: 1-866-799-4395
Anthem Wellpoint: 1-855-875-5200
Humana National Medicare (MCR): 1-866-588-5122
Medical Mutual Ohio: 1-866-267-7640
MediGold: 1-866-267-7641
Meridian Health Plan (MA): 1‐877-902-6784
UnitedHealthcare Ohio Medicaid: 1-800-269-4190
UnitedHealthcare Medicare National: 1-866-418-9812
Oklahoma:
Blue Cross Blue Shield HCSC MCR: 1-844-452-9381
Humana National Medicare (MCR): 1-866-588-5122
MediGold: 1-866-267-7641
SoonerRide: 1-877-404-4500
UnitedHealthcare Medicare National: 1-866-418-9812
Oregon:
Centene Allwell/Health Net: 1-877-718-4201
Humana National Medicare (MCR): 1-866-588-5122
UnitedHealthcare Medicare National: 1-866-418-9812
PACIFICSOURCE OREGON REGIONS:
PacificSource Columbia-Gorge Region: 1-855-397-3617
PacificSource Marion-Polk Region: 1-844-544-1397
Pennsylvania:
Centene Allwell/Health Net: 1-877-718-4201
Humana National Medicare (MCR): 1-866-588-5122
Pennsylvania Medicaid: 1-877-835-7412
Philadelphia / PA Keystone VIP Choice: 1-877-917-4146
Philadelphia / PA AmeriHealth VIP Care: 1-877-659-6137
UnitedHealthcare Medicare National: 1-866-418-9812
Rhode Island:
UnitedHealthcare Medicare National: 1-866-418-9812
South Carolina:
SOUTH CAROLINA REGIONS
SC Region 1: 1-866-910-7688
Abbeville, Anderson, Cherokee, Edgefield, Greenville, Greenwood, Laurens, McCormick, Oconee Pickens, Saluda, Spartanburg
SC Region 2: 1-866-445-6860
Aiken, Allendale, Bamberg, Barnwell, Calhoun, Chester, Clarendon, Fairfield, Kershaw, Lancaster, Lee, Lexington, Newberry, Orangeburg, Richland, Sumter, Union, York
SC Region 3: 1-866-445-9954
Beaufort, Berkeley, Charleston, Chesterfield, Colleton, Darlington, Dillon, Dorchester, Florence, Georgetown, Hampton, Horry, Jasper, Marion, Marlboro, Williamsburg
SOUTH CAROLINA PLANS
BlueCross BlueShield SC: 1-866-461-1028
Centene Allwell/Health Net: 1-877-718-4201
Humana National Medicare (MCR): 1-866-588-5122
UnitedHealthcare Medicare National: 1-866-418-9812
South Dakota:
Humana National Medicare (MCR): 1-866-588-5122
UnitedHealthcare Medicare National: 1-866-418-9812
Tennessee:
Centene/Ascension:1-877-718-4201
Humana National Medicare (MCR): 1-866-588-5122
Texas:
TEXAS REGIONS
State Region 1 1-855-687-3255
State Region 7 1-877-633-8747
State Region 8 1-877-633-8747
State Region 11 1-877-633-8747
TEXAS PLANS
Allwell from Superior HealthPlan: 1-877-718-4201
Amerigroup 1-844-287-6695
Blue Cross Blue Shield HCSC MCR 1-844-452-9383
HealthTexas 1-866-435-9357
Humana National Medicare (MCR): 1-866-588-5122
Prominence HealthFirst: 1-866-267-7644
Superior Health Texas: 1-877-718-4201
UnitedHealthcare Community Plan Texas Medicare & Medicaid Dual Eligibles (MMP): 1-866-427-6607
UnitedHealthcare Community Plan Texas STAR Kids: 1-866-529-2117
UnitedHealthcare Community Plan Texas STAR, STAR Plus, and CHIP Reservations: 1-866-528-0441
UnitedHealthcare Dual Complete Focus (HMO SNP), AARP Medicare Complete Focus Essential (HMO): 1-866-418-9812
UnitedHealthcare Medicare National: 1-866-418-9812
Utah:
UnitedHealthcare Medicare National: 1-866-418-9812
Utah Medicaid: 1-855-563-4403
Virginia:
Aetna Better Health of Virginia: 1-800-734-0430
Humana MMP: 1-855-253-8689
Humana National Medicare (MCR): 1-866-588-5122
InTotal Health: 1-800-894-8139
Kaiser Permanente: 1-866-823-8349
Virginia Medicaid (State FFS Program): 1-866-386-8331
UnitedHealthcare VA DSNP: 1-833-219-1175
UnitedHealthcare VA Medicaid: 1-844-604-2078
UnitedHealthcare VA Medicaid Medallion: 1-833-215-3884
UnitedHealthcare Medicare National: 1-866-418-9812
Vermont:
UnitedHealthcare Medicare National: 1-866-418-9812
Washington:
Humana National Medicare (MCR): 1-866-588-5122
UnitedHealthcare Medicare National:1-866-418-9812
Washington DC:
UnitedHealthcare Medicare National: 1-866-418-9812
West Virginia:
Humana National Medicare (MCR): 1-866-588-5122
UnitedHealthcare Medicare National: 1-866-418-9812
West Virginia Medicare: 1-844-549-8353
Wisconsin:
Allwell from MHS Health Wisconsin: 1-877-718-4201
Humana National Medicare (MCR): 1-866-588-5122
UnitedHealthcare Medicare National: 1-866-418-9812