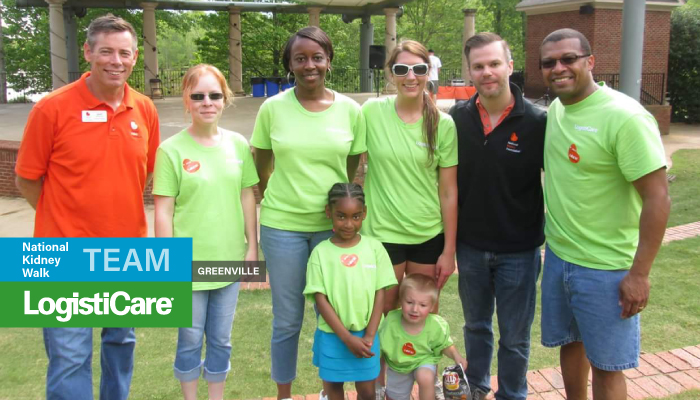 "You might be surprised about the people you know who have been touched by kidney disease. I know I was," says Gregg Bryars, the 2016 National Chair for LogistiCare's kidney walk effort. Gregg walked last year for and with a dear friend in his honor. This year, Gregg will walk in his friend's memory as he lost his battle just weeks after the 2015 Kidney Walk. Of the more than 64 million trips LogistiCare managed in 2015, more than 12 million were to dialysis facilities. With the increase in diabetes and high blood pressure--two major kidney disease risk factors--kidney disease is on the rise. "Whatever we can do to change the trajectory of the disease, we have to do it, and awareness plays a big role" he adds. Friends and loved ones are often at risk and don't even realize it.
The National Kidney Foundation is the leading organization in the U.S. dedicated to the awareness, prevention and treatment of kidney disease, which touches millions of patients and their families, hundreds of thousands of health care professionals, and the tens of millions of Americans at risk. We join more than 75,000 people in their walks across the country to further their efforts.
This year, we have 20 teams walking in different cities across the country and want each one to not just focus on fundraising but also to encourage partners, providers, friends and families to walk with us and spread awareness.
Please join us in the effort
We want everyone to learn about kidney disease and its risk factors. Read our blog on what it's like to have kidney disease to get a more in depth look. It's a dreadful, often terminal disease. Help us spread the word about the potential warning signs of the disease and walk with us. We'd love to have you walk with our local teams or if you prefer you can just donate dollars to the cause so research can help create better outcomes. Together, we can make a major impact this year.
We hope to see you on the trails soon.
WALK DATE
| | |
| --- | --- |
| 2016 Miami Kidney Walk | 03/20/16 |
| 2016 Phoenix Kidney Walk | 04/17/16 |
| 2016 St. Louis Kidney Walk | 04/23/16 |
| 2016 Upstate Kidney Walk in SC | 04/24/16 |
| 2016 Jacksonville Kidney Walk | 05/01/16 |
| 2016 Hampton Roads Kidney Walk | 05/14/16 |
| 2016 Kidney Walk at the Detroit Zoo | 05/15/16 |
| 2016 Central New Jersey Kidney Walk | 05/22/16 |
| 2016 Long Island Kidney Walk | 05/22/16 |
| 2016 Atlanta Kidney Walk | 06/04/16 |
| 2016 Irvine/Orange County, CA Kidney Walk | 06/05/16 |
| 2016 Hamden/New Haven, CT Kidney Walk | 06/05/16 |
| 2016 Nashville/Middle Tennessee Kidney Walk | 10/09/16 |
| 2016 Wilmington, DE Kidney Walk | 10/09/16 |
| 2016 Philadelphia Kidney Walk | 10/09/16 |
| 2016 Glen Allen/Central Virginia Kidney Walk | 10/22/16 |
| 2016 Rhode Island Kidney Walk | 11/06/16 |
| 2016 Las Vegas Kidney Walk | 11/06/16 |
| 2016 New York City Kidney Walk | 11/13/16 |
| 2016 Austin Kidney Walk | 11/13/16 |