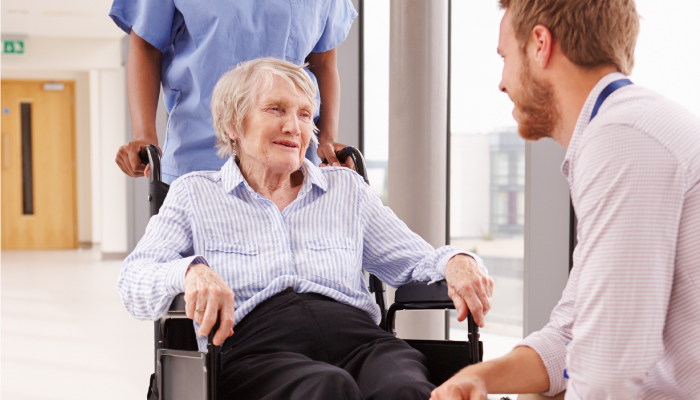 Being a thought leader in an industry means playing an active role in how it's shaped. As the largest non-emergency medical transportation (NEMT) manager in the country, we're often called upon to help researchers and advocates look at trends and insights to help determine what is a statistically valid mindset so better conclusions can be made that impact future decisions.
In 2015, LogistiCare managed more than 65 million rides for nearly 24 million Medicaid and Medicare members. Because of our significant footprint and volume, we're the only transportation manager suited to provide the most accurate look at what's happening in the health care industry from a transportation, treatment type, and utilization perspective. As a result, we're often called upon to see where our members go and thus what kinds of services different populations utilize.
Standing Tall for Our Members
When a trend starts to arise that could affect our members' ability to access care, we take it upon ourselves to arm groups like the Kaiser Family Foundation and the United States Government Accountability Office (GAO) with the information they need to give an accurate picture of what's happening in the market. In the last few months, we've been working with both organizations to provide data that helped shape their February 2016 reports on Medicaid Expansion waivers for NEMT. The new data continues to show support for the NEMT benefit, especially for newly eligible Medicaid members in expansion states.
The benefits of providing NEMT to Medicaid members have been well recognized for years. Study after study shows that those who can get to the health care services they need via reliable, free transportation actually lessen our overall cost burden. Why? Members can access the preventive services, behavioral health, and chronic care appointments they need to stay healthy. When the ride isn't available, they simply can't get there and it results in costly emergency room visits, ambulance rides and far worse conditions that require hospitalization on arrival.
Who's Received a Waiver for Medical Transportation?
As stated in the GAO report, the vast majority of states who have expanded their Medicaid program automatically included NEMT services as a covered benefit for their expansion population. Several of these states cited access to care as the primary reason while other proponents simply desired to keep the benefits equal for all Medicaid members regardless of their status (expansion vs traditional). In order to deny Medicaid members access to the NEMT benefit, states must first receive a Waiver from CMS. To date, Iowa and Indiana are the only states to receive approval from CMS for such a demonstration. Arizona's Waiver application is still pending. From a justification standpoint, both Iowa and Indiana cite that the newly added population is more apt to be employed and thus might not need the benefit. Both states also expressed a desire to have their Medicaid plans for the expansion population mirror what a member would experience with a private health care plan that typically does not provide transportation. In order for these Waivers to continue, CMS has requested that Indiana and Iowa publish data from their beneficiaries to show access to care has not been compromised.
What Our Data Already Shows
Similar to the GAO report, LogistiCare was contacted by Kaiser Family Foundation to assist in a research project on NEMT Waivers. The brief can be found here. They put it best: "Expansion adults and children in particular frequently use NEMT to access preventive care. When considering the top ten reasons for NEMT use, expansion adults in Nevada and New Jersey were more likely than traditional Medicaid beneficiaries to use NEMT to access preventive services (54% greater utilization for preventive services in NJ from Feb. 2014 to April 2015, and 53% greater utilization for preventive services in NV from March 2014 to April 2015)." This finding clearly illustrates that if provided access, expansion members will seek out and utilize preventive services proven to save taxpayer dollars in the long run. We just have to get them there.
We also found that just like traditional Medicaid members, expansion members in these two states frequently use NEMT services to access behavioral health and substance abuse treatment more than any other service (over 40% of total trips for both groups in NJ, and over 30% of total trips for both groups in NV, from Feb. to April 2014).
Most importantly, our data shows that expansion adults' use of NEMT has grown over time (from 1.9% to 5.1% from Feb. 2014 through April 2015 in NJ, and from 1.5% to 5.2% from March 2014 through April 2015 in NV). As expansion members learn of the transportation benefit and have a better understanding of the Medicaid program, utilization is likely to continue its upward trajectory.
Medicaid members, both expansion and traditional populations, need transportation in order to access their health care services. If it's not provided to them via the NEMT benefit, they either don't go at all or delay until a far more costly scenario arises in regards to their future care. Current utilization data we were able to pull for advocacy groups like the GAO and Kaiser Family Foundation shows that when the transportation benefit is available, Medicaid expansion members tend to seek out preventive and mental health care that lowers the overall cost of care. Early data suggests that granting states waivers as it relates to NEMT isn't apt to last long. The data just isn't shaping up to support it.